Add to favorites list
From the countryside to the sea, the Pays des Achards can also be discovered by bike!
From family outings to sports excursions, everyone will find what they are looking for with our Vendée cycling circuits and loops or our 4 marked mountain bike routes.
Our mountain bike routes
Discover the Jaunay valley according to your desires thanks to our 4 mountain bike routes! The blue routes (n ° 1 et n ° 2) 12 and 25 km will introduce you to mountain biking on rolling paths and small roads: ideal for families or novices. As to red courses (n ° 3 et n ° 4) 41 and 58 km, they are aimed at more experienced mountain bikers.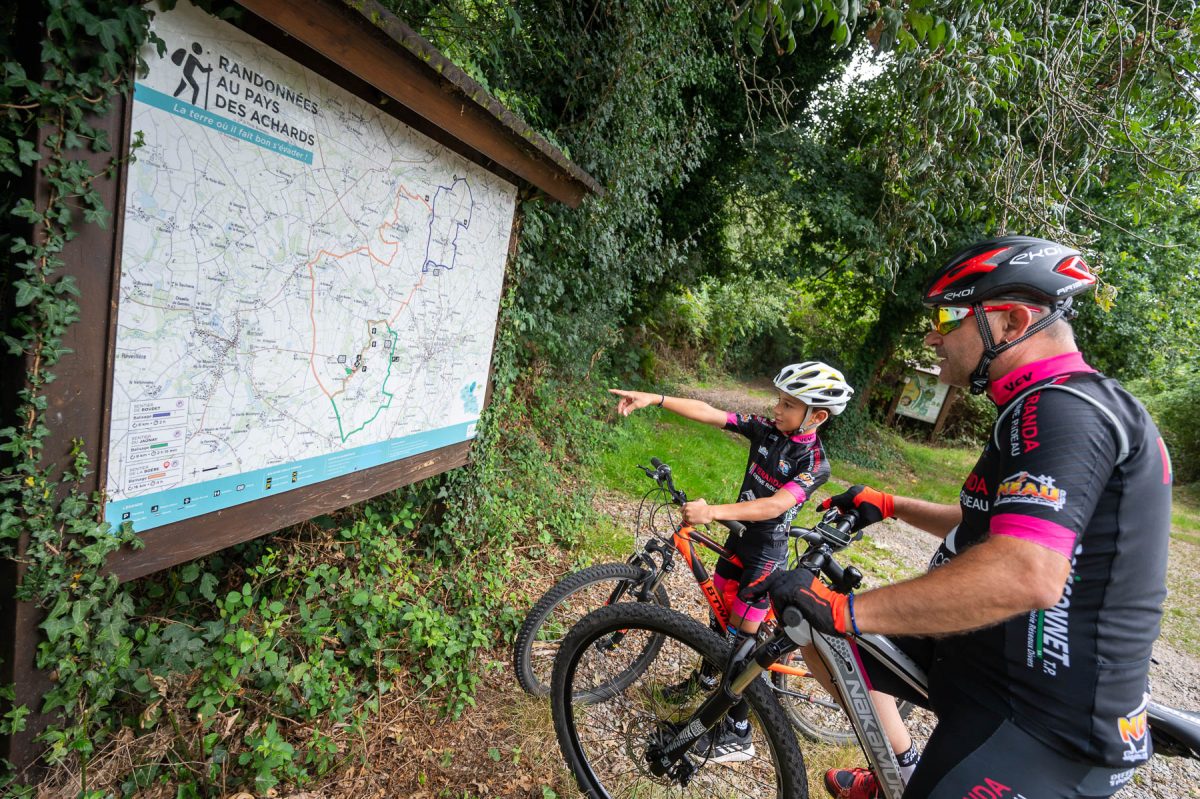 Our Vendée Vélo routes
Want to go see the sea by bike? Our territory offers you 3 "Vendée Vélo" itineraries" page (in French).
The first goes from Les Achards to Brétignolles-sur-Mer via Saint-Julien-des-Landes and Lac du Jaunay (11,8 km).
The second route, still departing from Les Achards, joins Les Sables d'Olonne via the salt marshes of Ile d'Olonne.
The third route, from Les Achards, joins La Roche-sur-Yon passing through the inter-municipal forest of Sainte-Flaive-des-Loups.
These new circuits have been marked since July 2022 by the department of Vendée.
If you are traveling by bicycle, you should definitely know the Cycling Home Label. Some of our service providers have chosen to be certified in order to guarantee you specific services and equipment, adapted to your needs!
Also discover our first wooden roaming hut, adapted for people with reduced mobility, located in the Chênaie park in Sainte-Flaive-des-Loups! Hikers will find the essentials for their overnight stay with 3 beds, a dining area, stools and a small auxiliary heater.
Bike rental
The Yelloh! Town The Umbrella Pine***** at La Chapelle-Hermier and the Flower campsite Pavilion*** in Les Achards offer bike rental (including for external customers). Different VTC and mountain bike rental packages are possible for half a day, a day or a week.
Choose your route
Find all of our cycling and mountain biking routes below. Choose them according to the distance to be covered, the difficulty of the route and the municipality of departure.
Ready, set, go !
---
---