Add to favorites list
A picnic break is a must!
Oh the "picnic"! Here is a magic word, synonym conviviality, games and naps in the grass! With the return of sunny days, the desire to enjoy meals in the open air, with family or friends, also returns.
Whether you are minimalist by opting for a simple sandwich or whether you like to celebrate this moment of sharing by going all out with a cooler and a checkered tablecloth, there are many picnic areas in the Pays des Achards. Take the time to recharge your batteries during a breath of fresh air. If you're short on food, why not take a trip to our producers to complete your basket?
Mélissa's favourite: I discovered the Rivière au Girouard picnic area because we had gone hiking Geocaching the low. At noon, it's nice to be able to eat in the shade when it's hot. The children's games are right next to the tables, which is ideal! Then, it's nice to have the explanatory panels of the educational path of P'tit Val Gaillard around. It was a real find for us and yet we live in the neighboring village!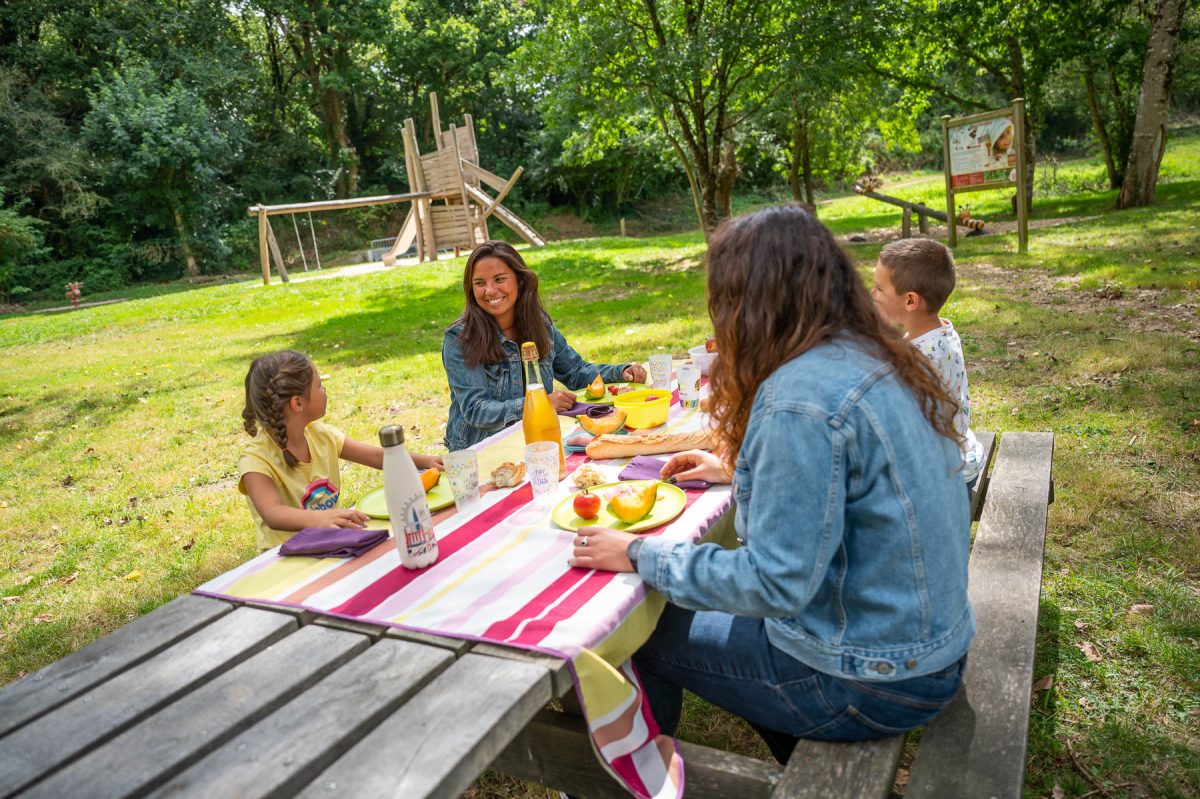 ---
Around Jaunay Lake, you can settle on the heights of Chateaulong, near the observatory walkway, near the pier Jaunay canoes and on the grass behind the La Baudrière barn. Several picnic spots are starting points for hiking trails. A real plus, the children's play area at a place called Meadow will delight your little tribe!
Jerome's hit ♥ : Personally, I love the La Baudrière picnic area! It's really on the edge of the Jaunay Lake, almost feet in the water. Once the meal is over, I like to go see the fishermen nearby and chat for a while. I also walk along the shore of the lake for a quiet walk!
---
The zero waste picnic
Adopt simple gestures to preserve nature!
What a joy to savor a gourmet picnic with friends or family! This moment of conviviality
appreciated by all can also be " eco-friendly ". And it's not that complicated!
Here are some tips to reconcile leisure and preservation of the natural environment where you are.
Prefer reusable water bottles to disposable bottles,
Bring your own cutlery and dishes rather than single-use plastic ones,
Remember to take cloth napkins to replace the paper towel,
To wrap your sandwiches, make way for the "Bee's wrap", a reusable food film made from fabric and beeswax,
Finally, concoct good homemade meals or buy in our local producers. The products will be tastier and more eco-friendly than the industrial options…yum!
---
Where to picnic?
---